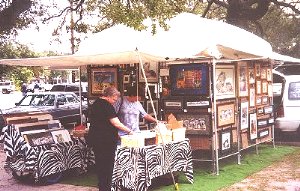 SHOW SCHEDULE


Here are the shows that I plan to do in 2001. This schedule is not cast in stone and may have changes later. Please contact me if you have questions about times, locations, etc.


April 6, 7, & 8, 2001
~The Flowertown Festival~
Summerville, SC
A wonderful festival with over 200 exhibitors and great food booths held in beautiful Azalea Park on Main Street (Rt. 17A)

May 25-June 3, 2001
~Piccolo Spoleto Outdoor Art Exhibit~
Sponsored by the City of Charleston, this show features nearly 100 South Carolina artists. It is held in conjunction with the internationally acclaimed Spoleto Festival of the Arts. We will be located in Washington Park at the corner of Broad and Meeting Streets, just a block from my gallery.

More shows for later in the summer will be added here shortly.